This weekend I am sitting down to address my Christmas cards and get them ready to be mailed out.
This year I'm not sending out a whole lot of cards; these days I send a lot of electronic greetings to those who I have email addresses for. However for family and people whose emails I don't have I still send old fashioned greetings along with photos of the kids.
I do try to opt for the more eco-friendly greeting cards by choosing those made from recycled paper or even tree free paper.
Wondering where you can snag some eco-greetings? Check out these Earth-friendly finds.
1. My Good Greetings
My Good Greetings offers beautifully designed custom photo cards,invitations and stationary printed on 100% recycled, carbon neutral paper which is Forest Stewardship Council (FSC) Certified. They use 100% digital short-run presses which significantly reduce paperwaste and emit 90% less Volatile Organic Compounds.
This is the first company that I know of that offered eco-friendly photo greeting cards. You can upload your own photos and create beautiful photo greeting cards on eco-friendly paper.
2. Doodle Greetings
All Doodle Greetings cards are made of 100% post-consumer recycled paper, are chlorine-free, and are made with renewable energy.
Doodle Greetings has a wide variety of fun greeting cards for any occasion including the winter holidays. Make sure to check them out if you want holiday greeting cards that are really earth friendly and "green".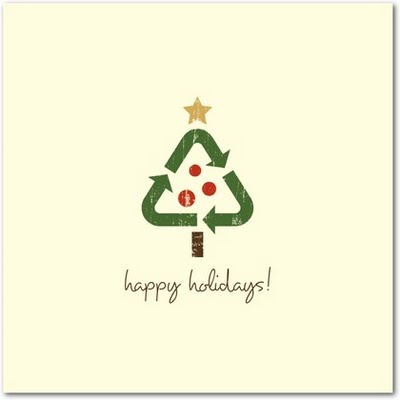 3. Tiny Prints
Tiny Prints has gone green. They recently announced that 100% of their products and packaging now feature eco-friendly recycled paper. From beautiful stationery to the eco-friendly, green invitations -all of Tiny Prints cards and invitations feature luxurious recycled paper.
4. Paper Source
Paper Source has a line of products that are PS Green Choices, all of these products contain at least 30% post consumer recycled paper. They sell green choices decorative and scrap book papers as well as wrapping paper in addition to their holiday greeting cards.
5. Night Owl Papergoods
I am a sucker for the "modern yet folksy" style of Night Owl Paper Goods. Plus I love the owls. They have some very awesome designs and greeting cards including cards that are printed on 100% post consumer recycled paper. They also have cards printed on eco-harvested wood. Very adorable and unique.